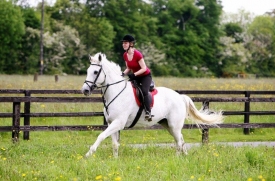 The Deal
Equestrian Experience 1.5 hours Beginner/Novice and 1 Hour Adult Intermediate/Advanced Class

Find More Deals
Hello from Thornton Park Equestrian Centre!
To redeem your Weekend Equestrian Experience for Beginners or Novice Riders or your Adult Class for Intermediate or Experienced Riders please complete this page.
Please include a phone number we can reach you at in order for us to contact you to create your booking.
Due to the popularity of this deal our telephone lines can be congested and we do appreciate your patience.
For further details about the Centre please check out our website: http://www.thorntonpark.ie
We look forward to your visit.

Available At
Thornton Park Equestrian Centre
Location
Thornton Park Equestrian Centre Kilsallaghan Swords Co. Dublin
Find Us Online