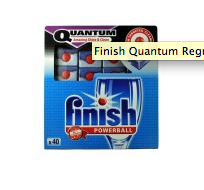 The Deal
4 pack of 208 tablets of Finish Powerball All In One Tablets

Find More Deals
To redeem your deal please complete this page, it will take just take a few minutes.

You will receive confirmation of your booking by email shortly afterwards.

Please note that your order will be shipped within 5 working days of redeeming your voucher.
You will need to select 'Buy it' below to pay for P&P.
Available At
BuyersClub.ie
Find Us Online
Our Website

Like Us On Facebook

Join Us Twitter